Medicare is a federal health insurance program for people 65 and over and for some people under 65 with disabilities.  If you are on Medicare, it will pay for some, but not all of your health care costs.
Medicare supplemental insurance is available for purchase through private insurance companies to help pay for some of your health care costs. In Idaho, there are many Medicare supplemental insurance plans to choose from and each plan offers different benefits.
There are also Medicare Advantage Plans and Medicare Part D Plans available.  Medicare Advantage Plans provide health insurance benefits and the Part D Plans (PDPs) provide prescription drug benefits.  Each private insurance company offers up to three different Medicare Advantage Plans and many different PDPs.  These plans are subject to change every year, which can be somewhat overwhelming.
The best time to purchase a Medicare supplemental insurance policy is during the first six months after you enroll in Medicare Part B.  This is the only time when insurers have to accept you regardless of any preexisting health conditions.  Changes to your Medicare Advantage and Part D Plans can be made annually from October 15 through December 7.
Please contact Dirks Insurance Group if you would like more information or to sign up for a plan.  We enjoy serving our Medicare clients and taking the time to explain all of the different plans available to help our clients find a plan to best fit their needs.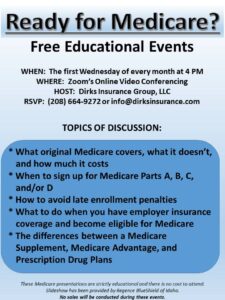 ---
For a quote or more information, please contact
our office at info@dirksinsurance.com or (208) 664-9272.
Medicare Plans Coeur d'Alene ID Hayden Idaho
Disclaimer:  For our Medicare clients, we do not offer every plan available in your area.  Any information we provide is limited to those plans we do offer in your area.  Please visit Medicare.gov or call 1-800-Medicare to get information on all of your options.